Auf Instagram konntet ihr ja meinen kleinen Travel schon etwas nachverfolgen;) Aber hier nochmal ausführlicher. Los ging es in Berlin nach Frankfurt. Wo ich mir zum Abschied dann auch gleich noch eine Bratwurst gegönnt habe.
Some of you might already saw some travel impressions on instagram, but now some more details! My first flight was from Berlin to Frankfurt where I ordered my last sausage.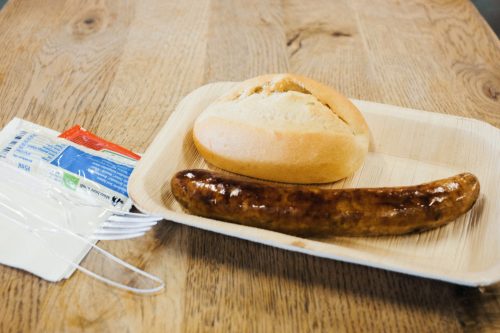 Leider nicht weiter zu empfehlen 😀
Von Frankfurt ging es dann über Bangkok nach Bali. Der ganze Spaß hat ca. 22h gedauert. In Bali angekommen habe ich mir dann vor Ort ein Visa on Arrival geholt, welches für max. 60 Tage gültig sein kann, wenn man es nach 30 Tagen verlängert. Warum habe ich kein normales Visum vorher beantragt? Weil ich einen Trip nach Kuala Lumpur geplant habe und das normale Visa dann verfallen würde 😉
Then I flew via Bangkok to Denpasar Bali. The whole trip took me 22h. At the airport in Denpasar I also got my Visa on arrival. I decided to choose this option, so that I can fly to Kuala Lumpur during my stay. 
Am Ausgang hielt ich dann Ausschau nach meinem Abholservice von der Unterkunft. In der Schildermenge beim Herausgehen habe ich dann meinen Namen entdeckt und bin sofort zu dem Mann hin. Wir gingen dann auch direkt zu seinem Wagen, bis sich rausstellte, dass er eigentlich eine andere Laura mitnehmen sollte. Naja dann gings nochmal zurück und dann stand dort auch schon mein richtiger Fahrer 😀 P.S. von dem habe ich leider vergessen ein Bild zu machen 😉
While leaving the baggage area I already spotted a man with a sign with my name on it: my pick up service. We went straight to his car until we noticed that I was the wrong Laura. So we had to go back, he took the right Laura and I found my actual driver. BTW in the picture is the worng driver, because I forgot to take one of the actual one 😀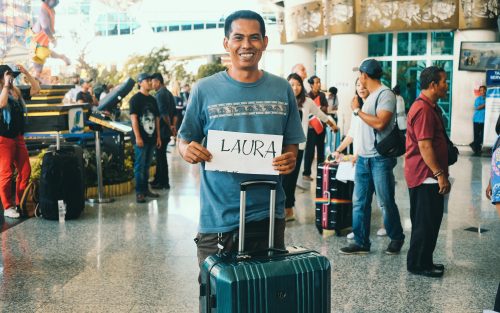 Mit dem richtigen Fahrer ging es dann ins Airbnb. Hier ist es so schön, da fallen mir einfach keine Worte mehr ein. Deswegen werde ich jetzt erstmal schlafen und versuchen das alles zu verarbeiten, in der Hoffnung morgen früh immer noch hier aufzuwachen 🙂
The right driver drove me then to my airbnb. I can't put the beauty of this place in words! That's why I probably are going to sleep now and hope that I'll still be here tomorrow 🙂